| | | | | | |
| --- | --- | --- | --- | --- | --- |
| Home | | | | everything not saved will be lost | |
_// JOYTOUCH
::_ JOYCON CONTROLLED ANIMATION RIG - KEYABLE POSES FOR ANIMATION CYCLE IN FLOATING LIGHTFIELD
_/_// APPROPRIATED RIG - MAYA - UNITY - IK - JOYCON LIBRARY FOR JOYCON INPUT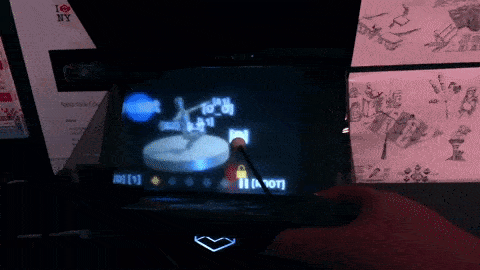 JoyTouch is a HoloPlayer One animation concept that enables the user to
animate a rigged model utilizing the input of a JoyCon controller! A
complex concept designed for intuitive usage in the floating lightfield.
Project is in the process of being stabilized for potential further development.
JoyTouch created at Looking Glass NYC. Animation concept, rig,
components, study: Benjamin Poynter. JoyCon library : Evan Kahn.
Utilizes Final IK and JoyCon library. 2018.